Raising International Environmental Concerns!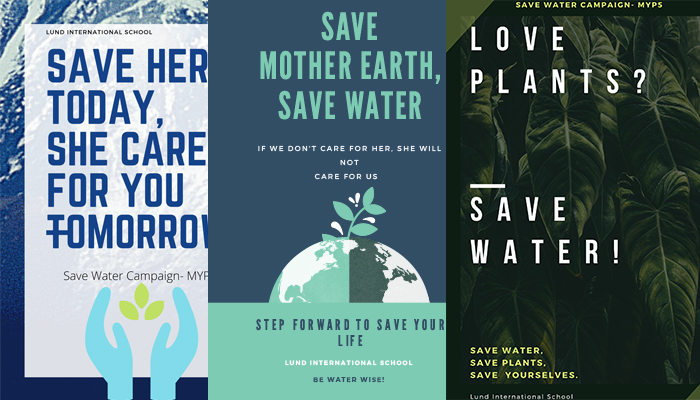 Service as action (S&A) is an activity in which students help, either within the school or within the province of his/her region. The purpose of Service as Action in the MYP is simply to help the students focus on the application of learning outside the classroom by themselves. There are different strands of learning outcomes that students can acquire from their activities. These activities can vary from, picking up garbage and cleaning the beach, or even help clean a room. We as students are required to choose two activities in which we are interested in doing, and to meet at least three Service as Action learning outcomes. My choice of activities was cleaning the science room and making posters for raising awareness about an international concern. 
I decided to make posters related to the excessive usage or wastage of water. This is one of the most common environmental concerns being raised every day. I chose to make my 2nd activity based on this. This is because I see many students leaving the taps open after using them. I was a bit worried about how students waste the precious water. Many students also play with water and waste it unnecessarily. This is something that should be addressed as soon as possible. Hence, this was my 2nd activity in Service as action. 
The Learning outcomes which I met are:
Increased Awareness of Your Own Strengths and Areas for Growth- I have demonstrated my technical skills while making the posters. I have demonstrated my concerns through this posters.
Plan and initiate- I have taken various steps to finish the posters. I planned out how I would work within the given time to finish the posters. I researched the different environmental concerns and also took steps and initiated the process of making the posters. 
International Mindedness- I have presented one of the international concerns through these posters. 
Ethical Implications- There were many concerns that I could have used as my main concern. I was confused about which one to use as there are many international concerns at the moment. However, water being wasted is something that is very important to be addressed to the students as some of them use water unnecessarily. 
This activity helped me and reminded me of the importance of water and the need for saving it. It reminded me about my responsibility of being accountable for protecting the environment. Hence, I will stand up for saving the environment from now onwards.