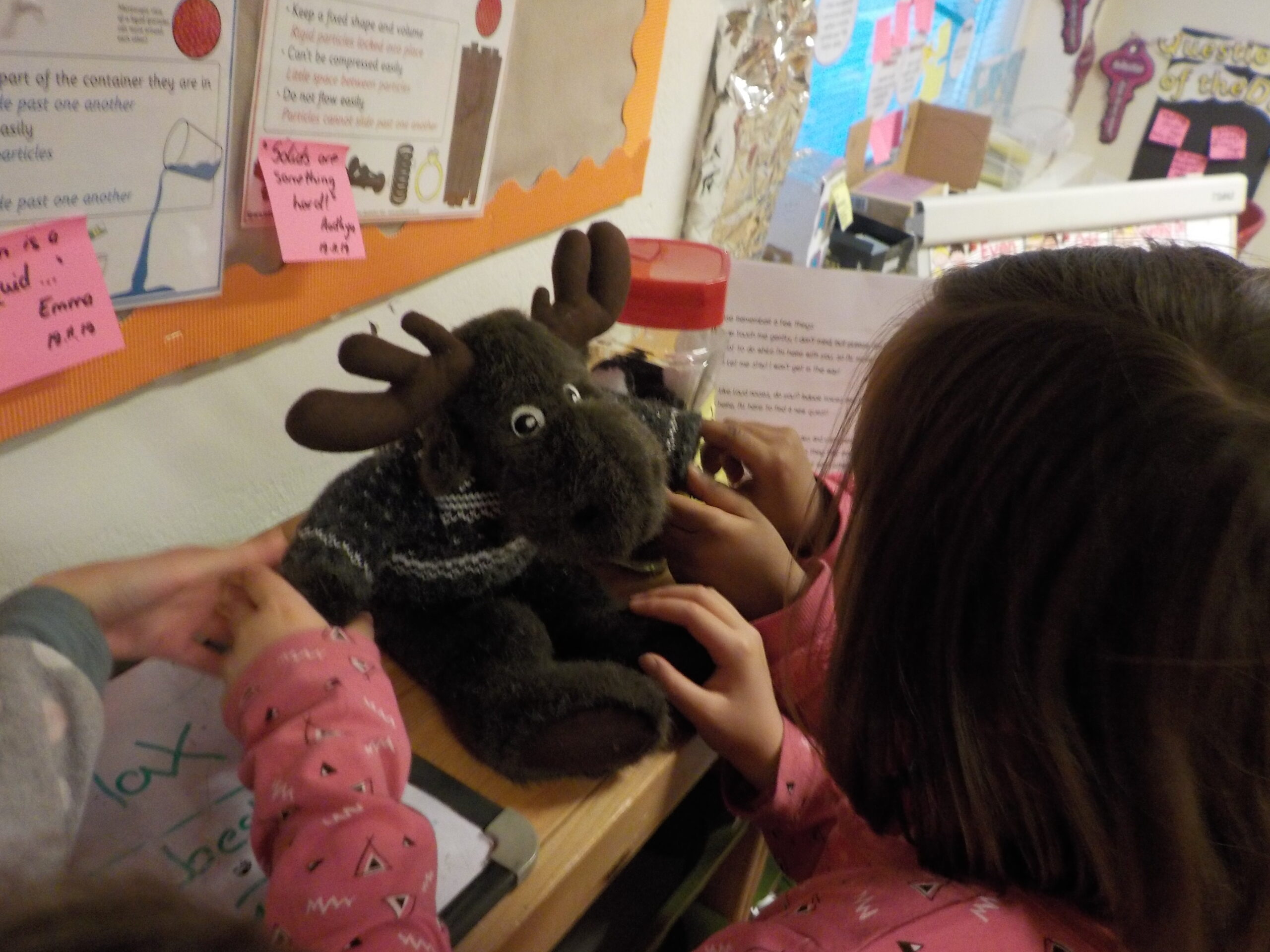 PYP 2's third Unit of Inquiry, How We Organise Ourselves: Transportation and Societies (which we started in November) encouraged us to inquire into how transportation helps societies to connect.
On the 2nd of December 2019, PYP 2 Blue received a visit from Melvin, the Moose on the Loose. His cousin, Max, arrived to visit PYP 2 Yellow a few days later due to a delay in his transportation journey. Max and Melvin told us about their journey to find Principled Students. Building on the idea of the Elf of the Shelf, we (as teachers) decided that the goal of the Moose on the Loose would not necessarily be to encourage responsible behaviour, but that we would use these moose as a tool for addressing our Unit, for being open-minded when exploring traits of new societies, for exploring letter writing, inspiring curiosity (since so many of the students travel in December), keeping a travel journal, and so on. We thought that this would also be a fun way to end the term, reflecting and celebrating on the school year thus far.
My name is Melvin / Max! How do you do? I'm the Moose on the Loose, I'm one of a kind! I'm here for December to see if I can find,

The good kids, the nice kids, the ones that make positive choices.

Only the ones that have love in their voices.

I've travelled so far just to find you today, from land to sea, from mountain to bay. I've seen so many different societies – kids and places of such varieties.

I've travelled by plane. I've travelled by bus. All kinds of transportation – it's been such a fuss!
While Max and Melvin did a lot of funny and silly things (such as sleeping on the teacher's desk, trying to bring us a snowman, moving from shelf to shelf), it was
also an opportunity for us, as a class, to discuss which kinds of transportation Max and Melvin might have used to find their way to us. We looked at Form and discussed where a plane, train, etc. could take us, building on the understanding that societies are connected through local and global transportation. We explored maps, landmarks, spacial awareness, proper nouns, and it was a treat having Max and Melvin there to learn some of these things with us!
As the school term came to an end, it was time to say goodbye to our Moose Friends. Their journey with us was over and they were off to find another society to visit. While the Moose are on their way, the sense of joy and wonder that the brought lingers with the students and with the final goodbye:
Dear PYP 2

The time has come to say goodbye. Off I go – will I drive or fly? I've had the best time, it's true. Every day I spent with you.

Now that I'm leaving, maybe you'll be sad. Don't be! It's not so bad. Here's the thing: My magic is nothing compared to the magic that is inside you. I was just a reminder that learning is about joy, surprise, and mystery.

I want to thank you for being such a great group. I have really enjoyed watching you grow during December. I hope you continue to treat others as you have treated me. It is a great example of how we should act all the time.

Let's have a great last day! Here we go: hip hip hooray!